Poesja Rusche

May 2004 - May 18, 2021

Beloved feline friend of Art Rusche
My previous cat of 17 years, Couloir passed away in April of 2004, a month after my ex-wife left me for another.
My good friend Bert Dewell told me that he just had a new kitten born in his barn.  So it was purrfect timing for a new kitten!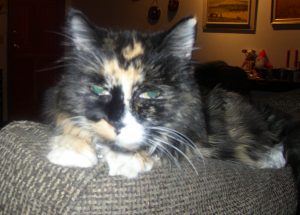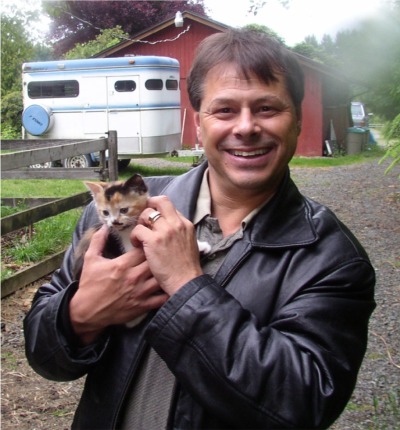 Lucky
Poesja's mom was named "Lucky" because one day Bert saw someone throw a moving bag out the window of a car. Bert stopped and inside that bag was Lucky. One day Lucky became pregnant had she had one kitten.  Bert immediately thought of me and I was so "lucky" to have gotten her. Collette Dewell said, "I bet this kitten will be spoiled to death, better than living in a barn with coyotes and the like!"
A month later Lucky disappeared.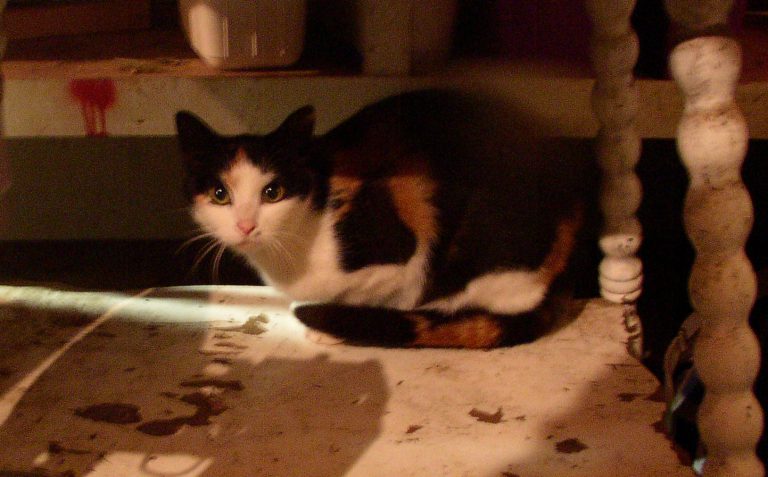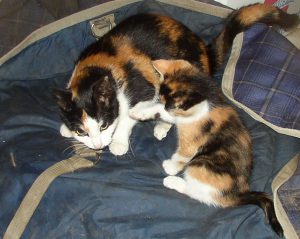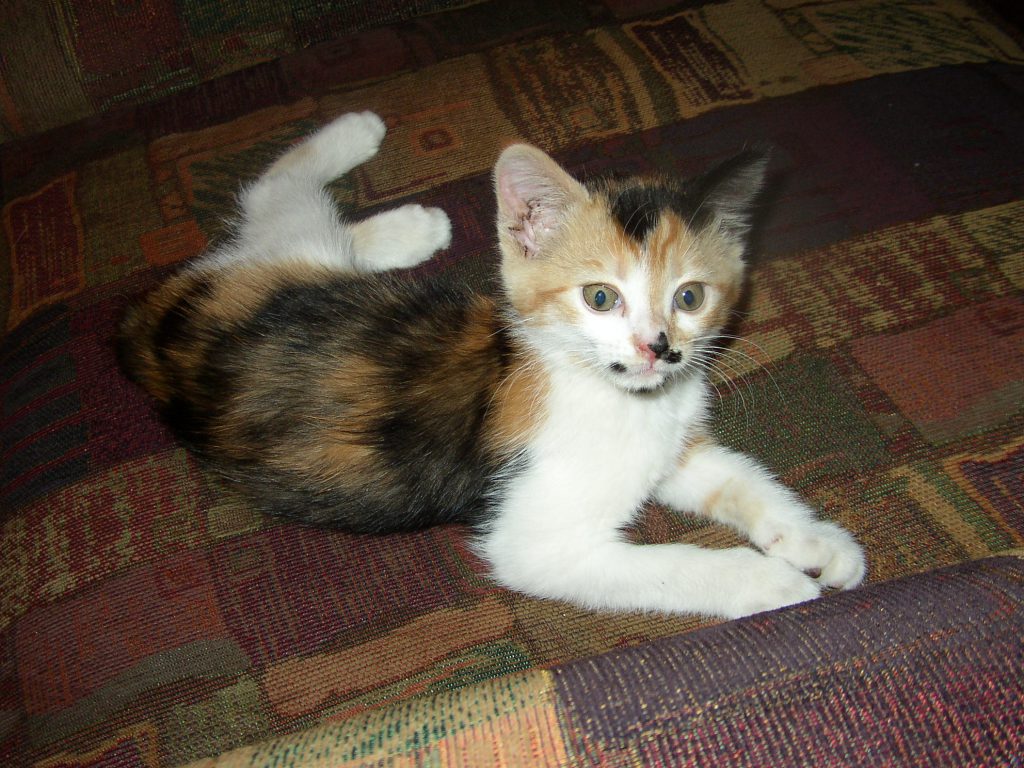 Oranya and Poesja 2004-2015

I took the little squirt home to a new home. I already had one cat that came with our new home. Oranya was just venturing out of Jennifer's old office upstairs, which was her territory. Poesja enjoyed chasing Oranya everywhere and Oranya just took it in stride.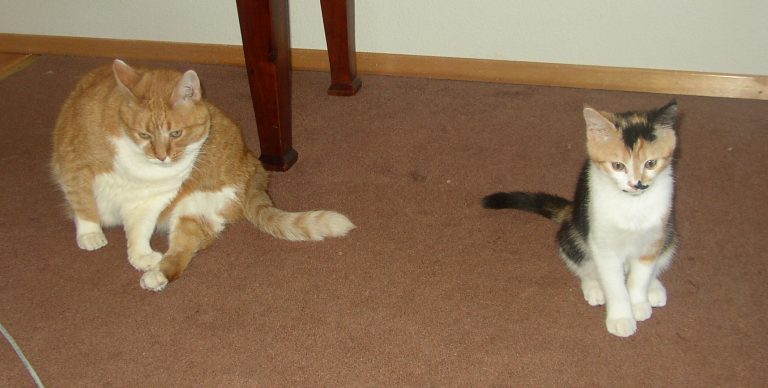 It took me a while to pick out the right name because of her distinct markings. I settled on "Poseja" the phonetically sound of the dutch word for "kitten".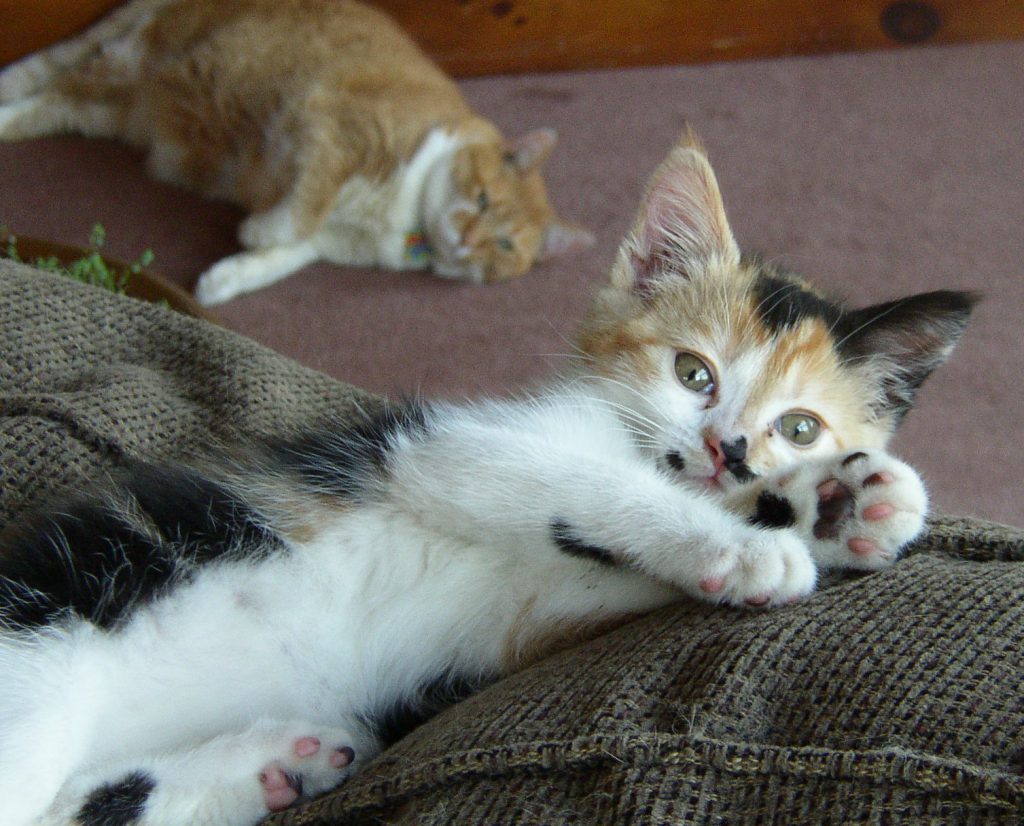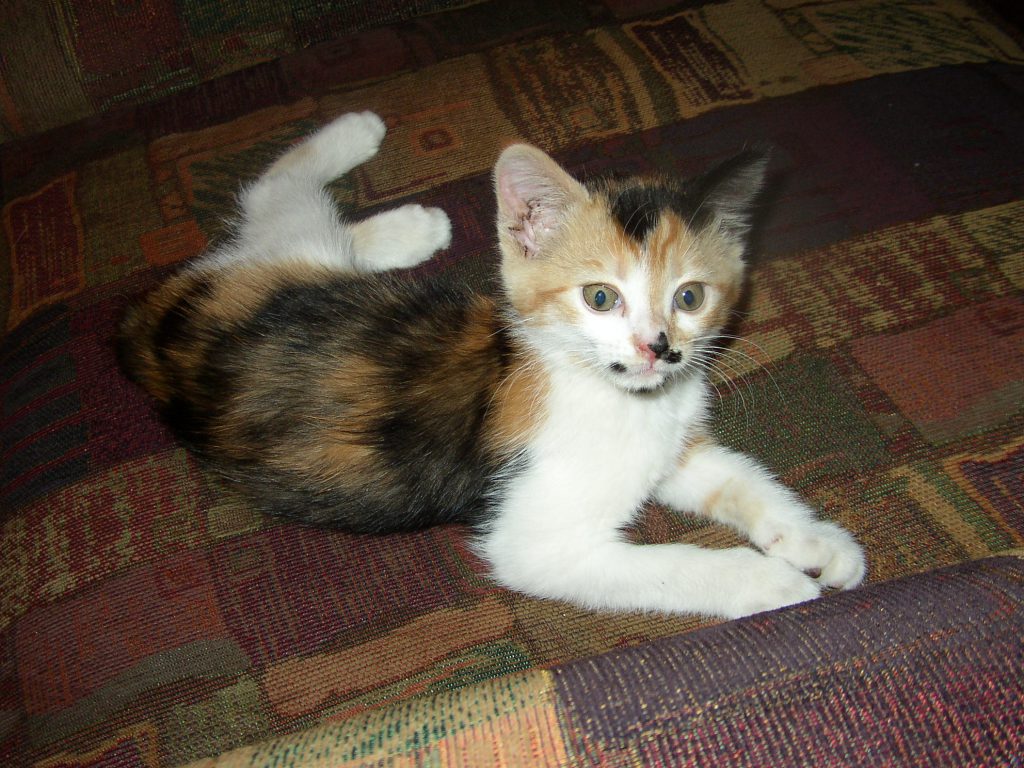 The next ten years, the two cats played well together.  I always treated each as equals.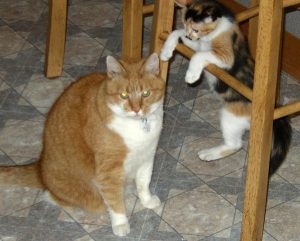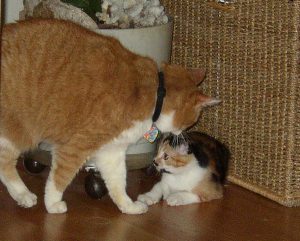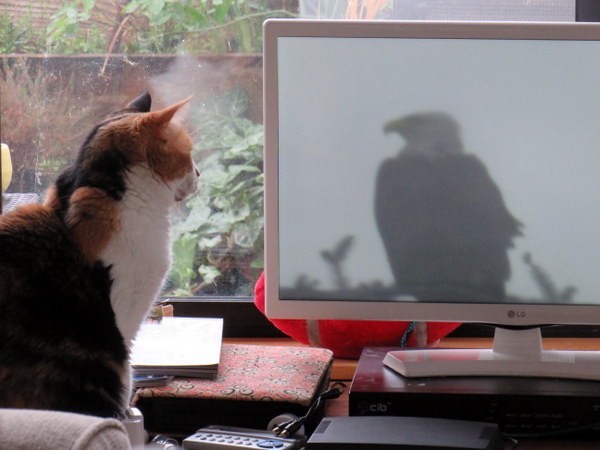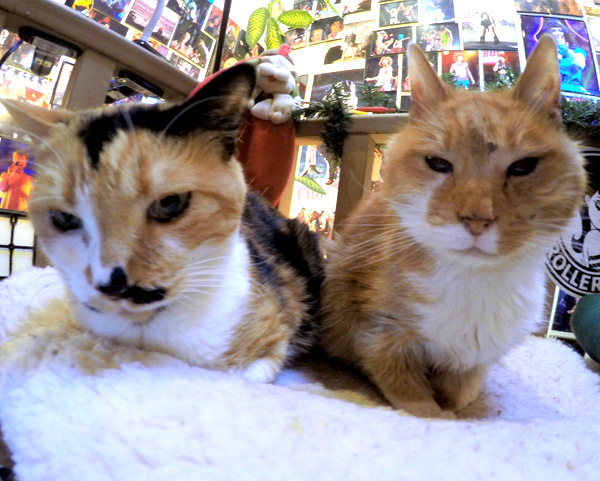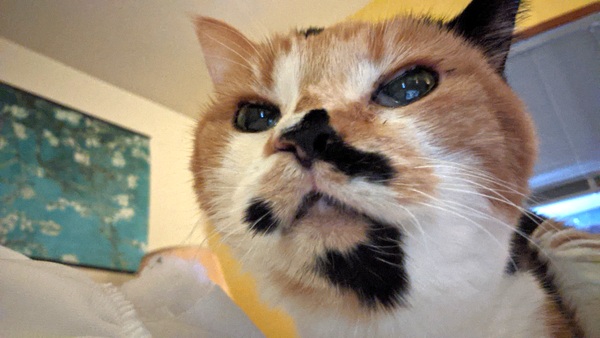 After Poesja was 10 yo she started to develop breathing problems. I called her "Snorty" for a while. She then stopped eating and got real weak. I took her to the Pet Urgent Care Center and they diagnosed that she had two tumors in her nose causing her breathing and smelling problems.
Feeding Tube  2014
The doctors inserted a feeding tube and I had to feed her daily with a syringe of pureed food. She started gaining a little strength and weight. A few months later, I came home with some KFC and she begged for some, then she started eating again!
I few weeks later I found her feeding tube on the floor as she apparently was tried of it and pulled it out!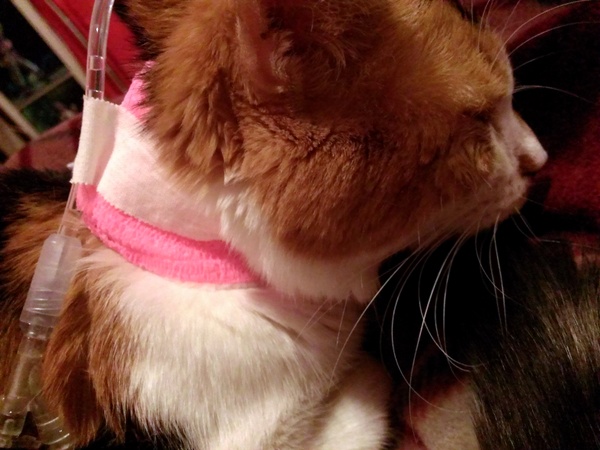 Oranya  1997 – May 15, 2015
Right after Poesja started doing better, Oranya started loosing lots of weight. I brought her to the vet and stopped at McDonalds beforehand.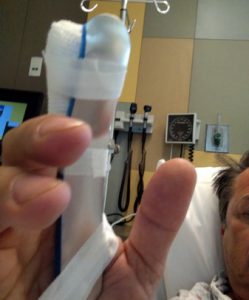 I fed her some bacon, egg and cheese and she was so hungry she bit the food right through to my index finger! I had to go to urgent care after it got infected!

Oranya passed away on May 15th, 2015 after old age set.  I found her one morning dying on the floor. Poesja and I stayed with her as she passed away peacefully in front of me.
I ordered an Amazon Pet casket earlier and it arrived right after she passed.
Our trip to Ocean Shores after Oranya passed away.
Kitty Cam

Whenever I was away, several cams allowed me to interact and keep an eye on her.
Props to Lauren, Peggy and Caryn for taking care of her too during those times.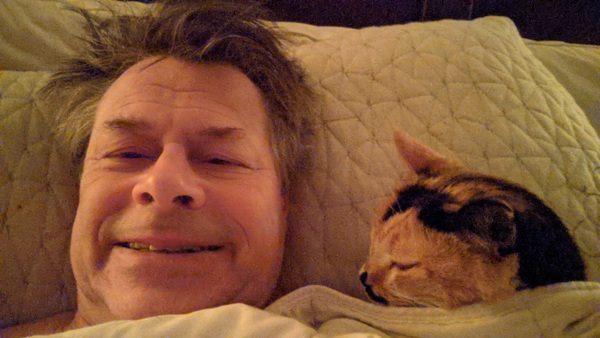 Poesja was at my side all the time! It was like she knew I helped save her life and so she was showering me with affection all day long! Always a nightly routine of cuddling and licking my nose, she would then settle in at the base of my bed.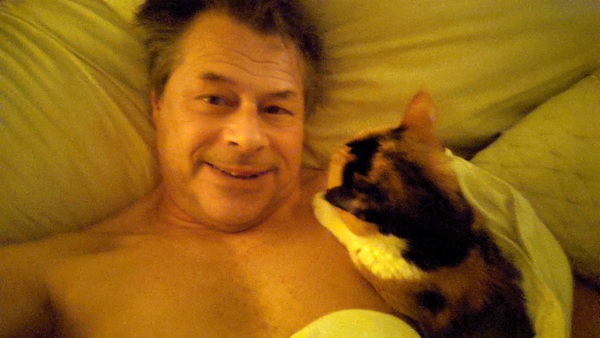 Poesja had 7 years without new problems, she learned to sleep in new positions so she could breath easier. She was so resilient! She still had a runny nose and sneezed often but in late 2020 the problems of her tumors reemerged. Once again at the Pet Urgent Car Center the vet didn't give her much of a chance. But she persevered for months. I started feeding her pureed food with a syringe into her mouth. It kept her going.
Poesja's last breaths.
She started going downhill fast this spring, blood was seen coming from her nose periodically. But she would still purr and nuzzle with me.

I finally called a home euthanization service to inquire about their service. To my dismay they said they could be at my house in 45 minutes!
After seeing this last video of her,
I knew I made the right decision.
Those 45 minutes were excruciating…  I felt the need to spend every last minute with her. Even though I had told her several times before my gratefulness of her companionship, it was hard. I was about to call and cancel twice…. She still nuzzled me as you can see in the video above. She was wet with my tears when the doctor came and gave her the first shot, a sedative. She looked so good going to sleep, no more awful difficulty in breathing. Then came the final shot to stop her heart. So peacefully she ended her life. I knew it was the right thing to do.
I already had a new pet casket on hand and placed her into it. I started cleaning my bedroom and removed all the cat stuff from the kitchen. It was already getting late so I placed her casket into the downstairs freezer. The next day she was placed next to Couloir and Oranya.
Poesja Rusche
May 2004 – May 18, 2021
Beloved Feline Friend of Art Rusche